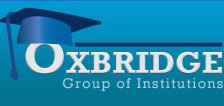 Oxbridge Business School, Mahadeshwar Nagar Extnension. Vishwaneedam post, Herohalli Cross, Magadi Main Road, Bengaluru, Karnataka | Estd : 1997 | oxbridgebschool.com | Fees Structure : 2.5 Lakh Phone-: 9250376104 | 9811004275 | College Approval By : Approved by AICTE | College Affiliation with : Bangalore University
Oxbridge group of Institutions (Previously SKM College) was established just over a few years now, when some eminent personalities had gathered together for a discussion with a purpose which soon caught up the idea to use their resources to form an organization which cater to the growing needs of the public in the Educational field.
Oxbridge Business School
OBS Bangalore Oxbridge Business School is one of the top institutions in Bangalore running under "Oxbridge group of institutions". Oxbridge Business School has been consistently ranked among the top B schools in India. . Oxbridge Business School's Commitment to quality and excellence is infallible and had been the cornerstone for its astounding success. OBS Bangalore prides itself in the success of its Alumni who are working in top global organizations across India and abroad.
OBS Bangalore

Mission
Vision
Establishment
The department will endeavor to provide high-quality technical education through a curriculum which meets the current and future needs of the industry and society
To provide the best possible Nurture and ambiance of learning to students for the advancement and dissemination of knowledge in Aerospace Engineering and Management

To establish a world-class institute and to provide globally relevant education, training and research and to support the growth of technology and business in the field of Aerospace Engineering and Management

2009

OBS Bangalore Fees, Courses, Affiliation

courses
Affiliation
OBS Bangalore MBA Fees
Fees: Rs. 2.5 lakh for 2 years

MBA Eligibility, Specialization, Ranking

Eligibility
Specialization
Ranking
Any degree from a recognized university, desirably with the relevant or related subject/s with not less than 50% in aggregate with CAT / MAT / score of 500 out of 800 or 50th percentile

Marketing
Human Resources
Management
Financial Management
International Business

OBS Bangalore Admission 2020

Courses
Shortlisting
OBS Bangalore Admission 2020
MBA

Performance in the Personal Interview.
Based on entrance examination, group discussion and interview performance
Participation and Involvement in Extracurricular Activities.
Critical Thinking Skills.
Work Experience.

Group Discussion & Personal Interview
Documents
Admission Confirmation

✓Passport Size Photographs ( White. Background)
✓ Marks sheet 10th.
✓ Marks Sheet /12th.
✓Graduation/Degree Marks sheet. (all semesters)
✓ Provisional Degree Certificate.
✓Caste Certificate. (SC/ST/OBC/Others)
✓Conduct Certificate.
✓Migration certificate.

Registration Fees to be paid within 15 Days of Receipt of admission Letter, Registration fees is part of the Total Tuition Fees

OBS Bangalore Average Packages and Placements:

Placement Package
Highest
Profiles
5 lacs per annum
10 +lacs per annum
HR, Research, Marketing
Sectors
Recent Recruiters :
Aerospace regulatory authorities, National and International Airports, National and International Airlines, Air cargo operators, Aviation Fuel Companies, Allied Aviation service providers
Indigo, Gulf Air, Taj, ITC, Lemon Tree, Nvidia Corporation, Omni Aviation Services, Qatar Airways, SpiceJet, Emirates, Jet Airways, Air India, Kuwait Airlines,
Oxbridge Business School Fee Structure
Oxbridge Business School Fee Structure
MBA
Master of Business Administrator (MBA) Bangalore University
Oxbridge Business School MBA
Objectives
To develop dedicated and disciplined Business Managers to meet challenges of the new era of globalisation and privatisation.
focus on development of managers who have a competitive edge in terms of information systems, Financial and Marketing streams.
To serve the business industry and society in their pursuits of excellence.
Provide an enriching academic environment that enhances student's professional and personal developments.
Oxbridge Business School Fee Structure
PGPM-Post Graduate Program in Management
Oxbridge Business School Bangalore
The Institute Follows Multiple Placement Policy. The student can upgrade their placement Offers upto 3 placements offers. The highest package offered to student was 12.6 Lacs .p.a. whereas the average package went to 8.9 lacs & Min. salary package was 5.2 lacs p.a.
Placements at OBS Bangalore have been one of the best in the industry. It is a very satisfying moment for students as they are able to pursue careers in their dream companies.
We facilitate multiple placement policy, by grooming our students throughout their tenure at OBS Bangalore , refining their communication and behavioural skills, thereby making them fit for the industry.
Oxbridge Business School Bangalore
OBS Bangalore organizes various Seminars and conferences like Corporate Meet, International HR summit, International Marketing Meet, International Business Horizon etc. By organizing and participating in these business summits, students get a chance to interact with the industry pioneers. This interaction facilitates students to get summer as well as final placements by successfully displaying their organizing and managing skills during these conferences.
Oxbridge Business School Placements
Axis Bank
ICICI bank
Vodafone
Airtel
Veda Group
Johnsons And Johnsons
Reckitt Benkiser
Wipro
Calvin care
HCL
TATA
Honeywell
Samasung
Satguru Travels
99 acres
Reliance Digital Box Beat
SRS Cienema
Redtag UAE
Berger Paints
Reliance Digital
Amazon
Oxbridge Business School Placements
Amazon
Choitrams Dubai & Loreal Paris India.
Add india Advertising
Allied Pickfords India Pvt. Ltd
Aarti Enterprises
Accys Management Services P. Ltd
Ceasefire Industries Ltd
Cadbury (Kraft Foods Inc.)
Daffodil Green House(P)ltd,
DIAN Interior Solutions Pvt. Ltd,
Cement Trade
EPTISA India Pvt. Ltd
FinEdge Advisory Pvt. Ltd.
FORUN Courier & Cargo Ltd.,
Genpact Ltd,
Group 3 India Services ,
Havells India Ltd. ,
HCL Technologies Pvt. Ltd,
MetLife
HDFC
ICICI